Bulk Sticker Custom Print Vinyl, Your Design Decals Labels Logo Stickers Printing Service in Wales
Cardi Banners produce custom stickers for a range of applications ideal for business or personal use that are entirely individual, with different designs, icons, images, and other elements without the excessive cost.
Supplied to suit you
Your bespoke stickers can be manufactured either as singles, on sheets or on rolls (we will advise at the point of quoting the most cost-effective option for your specification).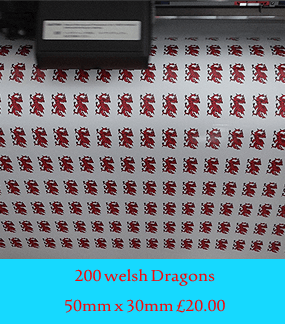 CUSTOM WALL STICKERS made in Cardigan West Wales
Bespoke made wall stickers to your requirements

Welsh or English Words & Quotes Wall Stickers


Animal Wall Stickers


Tree and Flower Wall Stickers


Nursery & Children Wall Stickers
We also offer complete sticker packages for:

Pubs


B&Bs


Sports & Social Clubs


Business


Hotels
Ring or email for a quote for as many stickers in 720 x 1000
Best price for your custom gloss stickers and labels within Wales. Printed on a white vinyl they're waterproof and ultraviolet and sun light-resistant. We are one of the most cost effective suppliers of the digitally printed stickers..

Gloss vinyl stickers can be cut to any size or form for the simplest look and true sticker.

Minimum sticker size 20 x 20 millimeter and maximum sticker size 150 x 1300 millimeter.

Supplied on sheets truly custom with contour cut shapes.

Gloss vinyl stickers are available in a wide selection of shapes and sizes and prove to be very price effective.

Great vibrant colours and crisp details with a high definition digital printing.

Low delivery charges, the same day printing once design approved for print. Free design preparation for print.

With vibrant gloss finish print your stickers are going to be ideal for indoor or outside use because of the permanent adhesive which will hold sturdy to the surface. Custom cut shape stickers are nice for promotional or product labels.